The mission of the Old Mystic History Center is to preserve and make accessible to the public Eva Butler's research and additional historical and genealogical materials about the people of Old Mystic, Connecticut, and surrounding areas.

Old Mystic History Center
Our history center contains the works of Mrs. Eva Lutz Butler (1897 – 1969), noted historian and anthropologist. She collected a wide range of Indigenous, colonial, and genealogical materials for the better part of fifty years. Because of her interest in local Native Americans, Eva became involved in archaeological excavations in Montville, Poquetannock, Groton, and Ledyard. She studied at the Universities of Pennsylvania and New Mexico and worked at the Robert Abbe Museum on Mt. Desert in Maine.
After the Butlers purchased the old James Woodbridge house on Gallup Hill in Ledyard, she taught Eastern Connecticut State University extension courses. Her classes were popular with teachers and included local history, nature study, archaeology, and colonial literature. In addition, she established a Children's Museum in New London, which evolved into the Thames Science Center (closed in 1994). In 1958, with Princess Red Wing, Eva co-founded the Tomaquag Indian Museum in Ashaway, Rhode Island, where her large artifact collection was displayed.
On December 9, 1965, a group led by Harry W. Nelson and Mary Virginia Goodman formed the Indian and Colonial Research Center (ICRC), Inc. to preserve Eva's historical collection. They purchased the 1856 Mystic Bank building in Old Mystic from Stonington for $1.00. Eva's notebooks, manuscripts, printed volumes, and cultural items were moved to the Mystic Bank building from her historic farmhouse in Ledyard.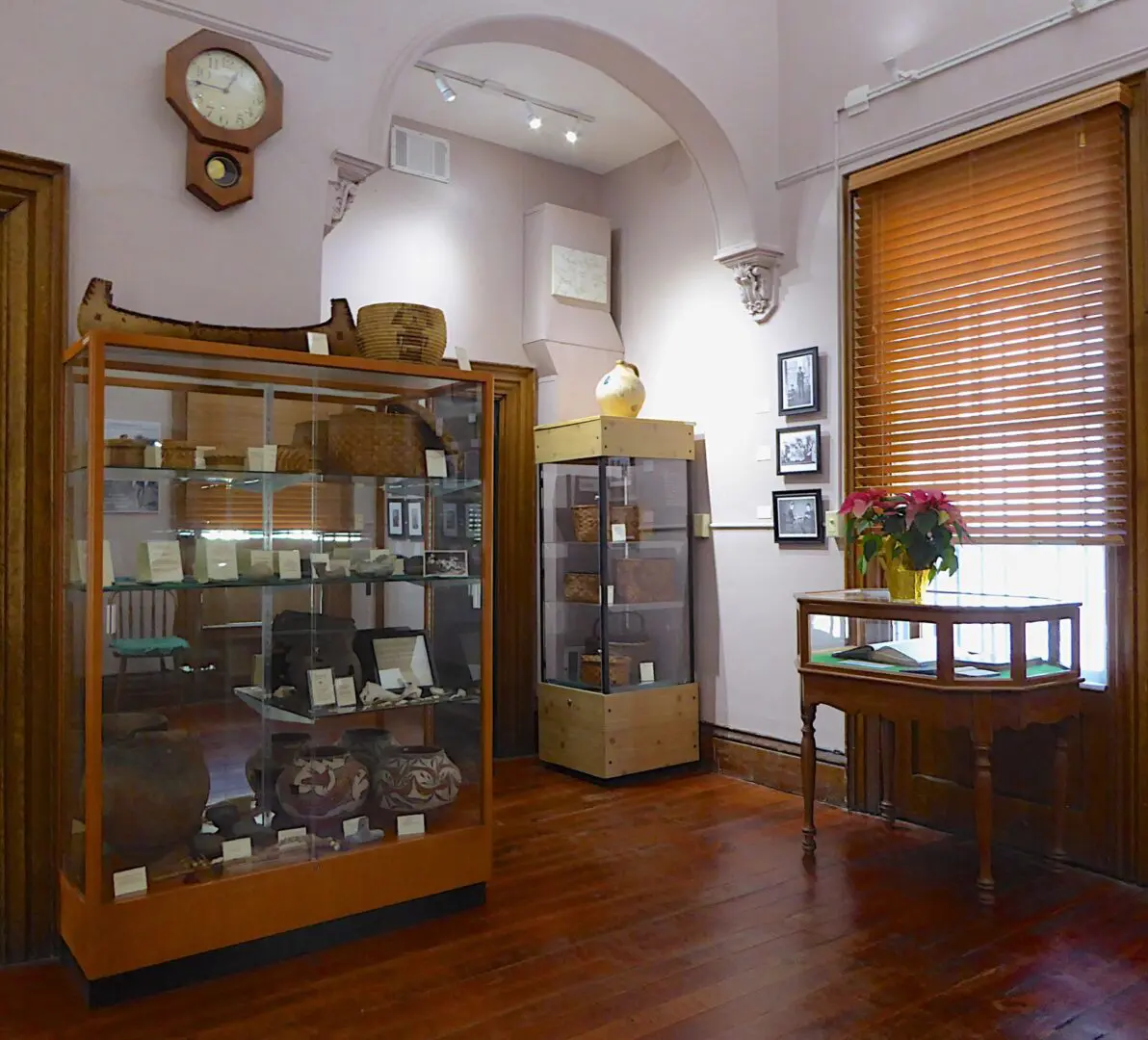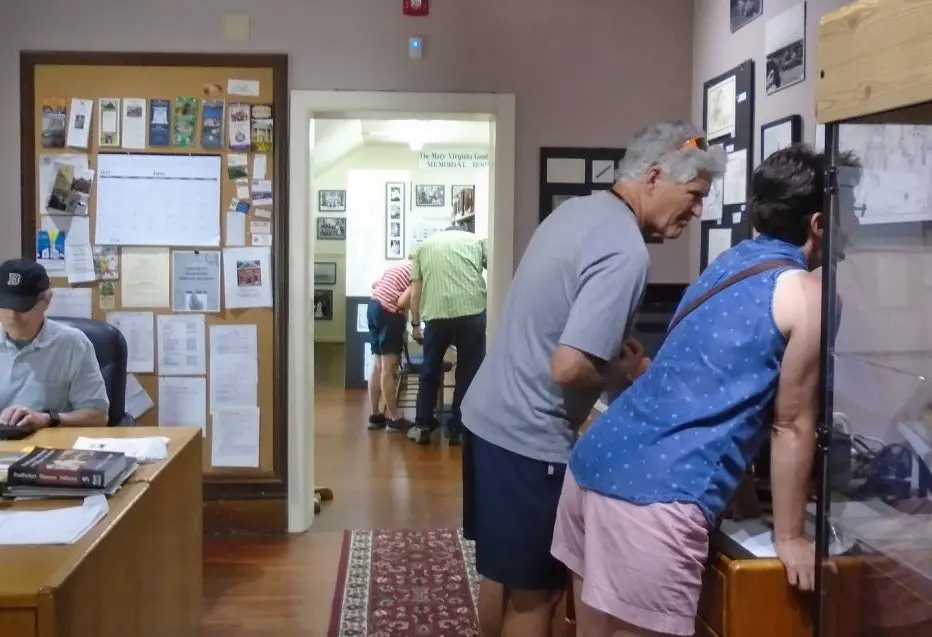 The Center holds a robust collection of books, transcriptions, photographs, and original manuscripts on historical New London County people, places, and events, with a special emphasis on Southern New England Indigenous peoples.
For more than fifty years, these materials have assisted researchers in finding accurate and interesting historical information for classroom instruction, family genealogies, museum exhibits, and academic scholarship.   Our collections have been the source for many dissertations and book projects covering a wide variety of subjects: for example, local tribal and town histories, colonial wars, natural resources, religious studies, and women's studies.
You can also visit our Center just to find out how your colonial ancestors lived their everyday lives with no electricity.  Joshua Hempstead's published diary describes life in 1717 in detail, including how people survived a snowstorm that dropped 12 feet of snow in 2 days. His diary reads like a novel:  a real-time account of a smallpox epidemic, lists of New London boats that were involved in the triangle trade, and stories of neighbors helping neighbors.
As the Indian & Colonial Research Center rebrands itself as the Old Mystic History Center, its collections continue to grow with recent donations of research files on genealogy and local Native Americans. If you haven't been to the Center for a while, why not plan a visit sometime soon?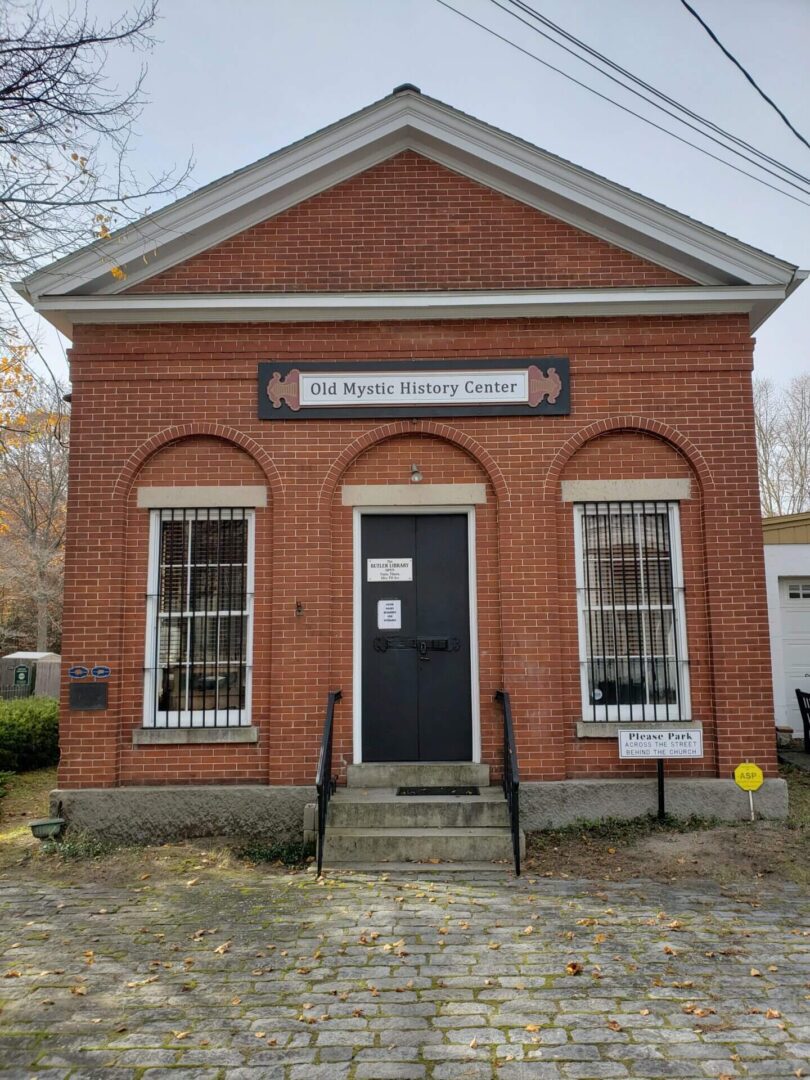 Our home, the 1856 Mystic Bank building, is now officially listed with the National & State registers of Historic Places. Thanks to a grant from The William Pomeroy Foundation, a National Register historical marker is posted in front of our building. The Mystic Bank building was constructed in the village of Mystic in 1856. This bank is an example of a small Greek Revival building that reflects the economic role it played in the small but the important town of Mystic (now Old Mystic) in the 1800s located at the head of the river.
In 1865 the Mystic Bank became a national bank. In January of 1884, a story was published in the Stonington Mirror with the following headline: "A Bold Attempt at Robbery – The Mystic National Bank Burglarized but No Plunder Secured." Burglars had entered the bank during the night through the windows and attempted to blow the door off the safe; they escaped with a few postage stamps. As a result of this attempted burglary, iron bars were added to the windows. After the bank's liquidation in 1887, the building was sold to the town of Stonington in 1889 and used as a District Hall for voting and fire department storage until the 1960s.  
Many of Mystic Bank's original architectural features remain. These include the barred windows, reinforced vault, and massive iron-faced entrance doors.  Renovations to the windows and steel bars were recently made through the generosity of OMHC members and contributions from several donors.
Old Mystic History Center Directory